The Fathom + Hatch team hails from an eclectic mix of backgrounds and is united by a passion for human inspiration and ingenuity.
Founding Partners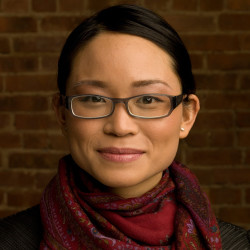 Kat Lam
A Founding Partner of Fathom+Hatch, Kat Lam leads the Cultural Insights practice, overseeing the design and execution of consumer and cultural research and its application to marketing and innovation.
While completing her Sociology degree at Princeton University, Kat was witness to a quiet social revolution that became her senior thesis topic: The fledgling internet of the 90s was transforming the social networks and behaviors of Princeton's gay men. Through ethnography and in-depth interviews with both in-the-closet and openly gay men, she mapped the evolving tension between gay advocacy and sexual exploration.
Kat later translated her skills of cultural observation and ethnography into business acumen at Sapient's Experience Modeling arm as well as Datamonitor's Technology group. Thereafter, Kat led the future forecasting department of Faith Popcorn's BrainReserve. Directing and synthesizing the insights of the company's global network, she helped identify cultural resonance and opportunity for clients including Pepsi, Tylenol and Nike.
Having left Singapore at age 17 to study at Princeton and La Nouvelle Sorbonne in Paris, Kat holds a unique outsider-insider perspective, able to recast local and global consumer behavior through both international and American-centric lenses. At Fathom+Hatch, Kat has used this perspective to shape the futures of companies including Harley-Davidson, Mars, Chrysler, Trojan and Seventh Generation.
Read more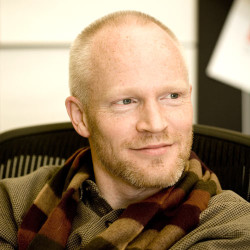 Craig Bamsey
As a Founding Partner of Fathom+Hatch, Craig applies analytical and creative problem-solving to all of Fathom+Hatch's work, balancing the lenses of business, brand and people to identify and articulate perspective-changing insights and stories.
Craig's extensive left-brained professional experience has been tempered and shaped by an intuitive right-brained fascination with culture. A veteran of Goldman, Sachs & Co., Deutsche Bank, McKinsey & Co., Universal Music Group and the former Head of Consumer and Business Strategy at Faith Popcorn's BrainReserve, Craig's skills and experience have evolved into a natural balance between business discipline and the applied creativity of branding and marketing.
Fleeing suburban Detroit, Craig didn't stop running until he had covered twenty-nine countries, spending four years living in Europe. While witnessing Wall Street's Black Monday crash, the fall of the Berlin Wall and music's digital revolution first hand, he collected a Dartmouth BA, a Wharton MBA and a University of Pennsylvania MA in International Studies.
He has been involved in and led the repositioning of brands, building cultural and industry FutureScapes, and developing innovation platforms for clients including: Blue Cross Blue Shield of Florida, Campbell's, Chrysler, Del Monte Foods, Harley-Davidson, IBM, KFC, Mars, MasterCard, Tylenol, Mitsubishi Motors, Nike, PepsiCo, Pfizer, Quaker, Theatre Development Fund, Trojan and Tyson Foods.
Read more
We are growing at a nice clip. Want to join our team?
If the work we do and spirit with which we do it appeals to you, let us know.